Questions or to schedule appointment call or text us at (559) 216-5392
Treadmill Repair Fresno
We are a local business specializing in fitness equipment repair and maintenance. Serving the Fresno/Clovis area, we are dedicated to providing you with the most convenient service possible. We believe in giving you the knowledge to keep your equipment running at peak condition, as well as avoiding costly repairs down the road.
Technicians
Our technicians are factory trained and certified. In fact, our technicians are the ones the "big box" stores contract with for fitness equipment repair maintenance and assembly. They have the knowledge and experience to quickly and accurately diagnose your problem. Although most issues don't require replacing a part and the technician can quickly make the necessary adjustment and get your machine up and running that day.
Convenience
At Treadmill Repair Fresno, we try to make it as convenient as possible for you to get service by:
Reducing appointment windows to 1 hour instead of 4.
Additional appointments scheduled after 5:30 pm.
Weekend appointments scheduled if needed.
We accept cash, checks, PayPal, Venmo, and Cash App.
Brands we Service
NordicTrack, Proform, Sole, Horizon Fitness, Lifespan, Nautilus, Dynamix, Freemotion, Epic, Vision Fitness, Livestrong, Peloton, Vision Fitness, Precor, and Spirit.

Treadmill Repair Fresno $99 Service package includes:
Thorough inspection of your treadmill performing checks on the following:
Electrical checks on drive motor, elevation motor, circuit board, and console.
Walking belt condition, alignment, and tension
Belt/deck lubrication.
Drive belt condition and tension.
Lube belt/deck.
Provide you with a digital copy of your original User Manual if needed.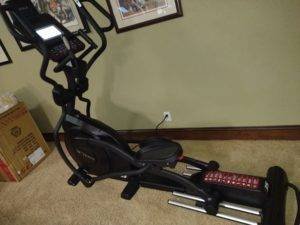 Most service calls result in the machine being repaired, so they are working that day. For example, if a part or parts need replacing, we can verify the part you need to order. We can replace the part when it arrives, and check for proper operation for just $49.
How it works
Call us or text us at (559) 216-5392 to schedule an appointment.
We show up and diagnose, clean, and adjust your machine.
If necessary, we come back to replace the failed part.
Problems we fix:
Belt:
Slipping
Loose
Not Centered on Deck
Folded over on itself
Electrical
Won't turn on
Display doesn't work
Belt won't move
Buttons on the display don't respond
Shutting off without warning
Incline not working right (deck won't raise up or down)
Speed displayed is incorrect
Error messages
Treadmill making loud or unusual noises
Burning smell
Treadmill Maintenance Questions
How long do treadmills last?
According to what the manufacturers say, the average life of a treadmill is about 10 years. However, if you take care of your treadmill properly and lubricate the belt regularly, you can make it last longer. Nevertheless, some of the parts might still fail, and it does not mean that you need a new machine.
How often should I lubricate my treadmill belt?
Generally, depending on use, two to four times a year proper belt lubrication will help keep your treadmill in optimum condition and reduce needed repairs over time. We recommend you lubricate your treadmill once every three month using one ounce of lube per each application.
Is it worth it to repair a treadmill?
If you were satisfied with your treadmill while it was working then depending on the cost of repair, it might be worth it to fix your old treadmill.
What is the average lifespan of a treadmill?
According to what the manufacturers say, the average lifespan of a treadmill is about 10 years. However, if you take care of your treadmill properly and lubricate the belt regularly, you can make it last longer
What causes a treadmill to stop suddenly?
Treadmills require lubrication to limit the amount of friction between the platform and belt. When the friction increases to a certain point, the machine is automatically set to power off. This may be the cause for the machine to stop working suddenly.
What is the average life of a treadmill?
According to what the manufacturers say, the average life of a treadmill is about 10 years. However, if you take care of your treadmill properly and lubricate the belt regularly, you can make it last longer. Nevertheless, some of the parts might still fail, and it does not mean that you need a new machine.
What wears out on a treadmill?
Whether you have purchased a great treadmill for home or a lesser quality model, the belt will eventually wear out. You should check your belt for signs of wear at least once every three months. To check for wear, run your hand along the belt's underside.
Is it better to walk outside or on a treadmill?
A treadmill provides a predictable and consistent walking environment, but may not burn as many calories. Walking outside offers a varied environment and terrain, but could be unpredictable or hazardous. Ultimately, the best option for you is the one you enjoy the most and that most easily fits into your routine.
Can I use WD-40 on my treadmill?
NO. You always want to use a lubricant that is specifically for treadmills, and never products like WD-40 or any type of oil. To put it another way, using the wrong lubricant can damage your treadmill belt and many treadmill manufacturers suggest using 100% silicone, which can be found as a spray or liquid.
Can I use Vaseline to lubricate treadmill?
A dry deck is the most common problem to controller and drive motor damage and failure, be that as it may, NEVER use WD40, 3 In One Oil, Vaseline or any non approved treadmill belt lubricant.
How long will a treadmill belt last?
How long should my belt last? Generally, a 1-ply running belt will last 300-500 hours of use depending on the way it is maintained. This is approximately 3-5 years for the average user. A 2-ply belt will last much longer 5-10 years.
Should you unplug your treadmill when not in use?
The right thing to do, to preserve the treadmill's functionality, is to turn it off and unplug it after every use. Apart from extending its life, you will also reduce your energy consumption. Small changes matter when it comes to expensive electrical equipment.
How do I know if my treadmill drive belt is bad?
If you step on the treadmill and its belt stops running but the motor is still running, then you should check out the front roller. If the roller and the pulley also stops, then this is a clear indication that the drive belt is worn out.
What happens if you don't lubricate a treadmill?
The consequences of not keeping your treadmill well lubricated can be very costly. Firstly, too much friction can lead to motor or controller board burnout, premature degradation of the treadmill belt and/or delamination of the board, and dramatically higher energy consumption.
How do I know if my treadmill needs lubricant?
Once the treadmill belt is loosened, lift it up slightly and put your hand under it. If the inner surface is dry, with no apparent coating of oil, it's time to lubricate. On the other hand, if you remove your hand to discover it has some oil on it, there's no need to lubricate.
How do you fix a treadmill belt that won't move?
Check the drive belt for proper alignment. With the cover still off, check over the wire and cable connections, as they may have become loose or disconnected during shipping or assembly. Make sure connections are secure and no wires are crimped, damaged, disconnected or burnt.
Why does my treadmill slow down and stop?
A damaged walking belt, improper belt tension, lack of belt lubricant or a bad drive motor can cause the walking belt to slow down when you step on the belt. Unplug the treadmill, then check the walking belt for damage and replace the belt if it's torn.
Are treadmill belts Universal?
Treadmill belts are not universal. The main issue is that belt sizes vary from treadmill to treadmill, so you can't be sure if a belt that wasn't made for your specific treadmill make and model will work.
Will any magnet work as a treadmill key?
It depends in particular some magnetic treadmill keys rest on a small indentation, in which case you may be able to find a magnet that fits. However, if the magnetic key has to slide into a slot, locating a compatible replacement is necessary.
Can you bypass a treadmill key?
Making a treadmill run without a key is possible by installing a jumper bypass at the safety switch. However, at the same time, most owner's manuals do not recommend operating treadmills without the safety features in place. Operating your machine without a safety key may lead to a potentially dangerous situation
Do you need to lubricate the motor on a treadmill?
First thing to remember, properly lubricating the running deck is necessary to keep moving parts on your treadmill in the best shape possible. For example, most treadmills require to be lubricated every six months or 150 miles, whichever comes first. Silicone-based spray or treadmill lubricant often works as the best lubricant for treadmills.
Should you turn off your treadmill or just remove the key?
We recommend both. While it may seem redundant, turning off the treadmill and unplugging it will prevent accidents with children. If a child sees you unplug the treadmill when you're done, they may just walk over and plug it back in when you leave.
How common is it to fall off a treadmill?
An estimated 62,000 Americans are injured on exercise equipment every year, according to the U.S. Consumer Product Safety Commission. The biggest culprit in that category is treadmills, which send 24,400 people to emergency rooms last year. Deaths from treadmill accidents average three a year.
Is a treadmill good for your knees?
Running or jogging on a treadmill can put more stress on your bones and joints compared to working out on an elliptical trainer. After all, this can lead to injuries along with common running injuries include shin splints, knee injuries, and stress fractures.